Former Phillies Schmidt, Stairs & Moyer to be New Announcers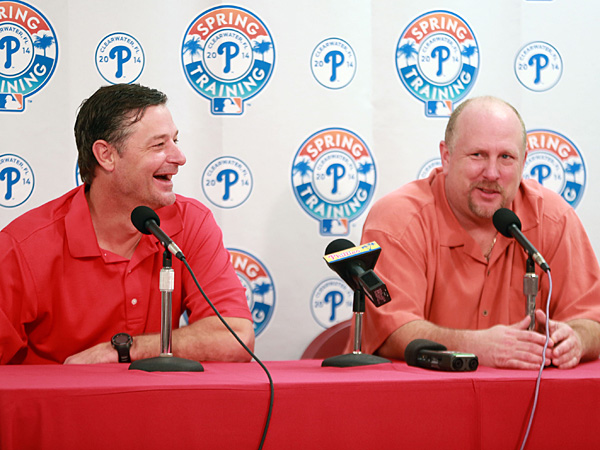 This past Monday, the Phillies announced that the former announcers for the team, Chris Wheeler and Gary Matthews, will be replaced by loved, former Phillies Jamie Moyer and Matt Stairs. Although it seems nothing could make Phillies' fans happier than hearing Wheeler and Matthews won't be heard as the games are watched, they will be ecstatic to hear that Hall-of-Famer Mike Schmidt will be joining their team for all Sunday home games. Schmidt will join play-by-play broadcaster Tom McCarthy, and only one of either Moyer or Stairs, for a broadcasting trio for all 13 Sunday games to be played at Citizens Bank Park.
After fighting strong illnesses, we are all glad to hear that Schmidt's medical problems are not going to stop him from being a part of the Phillies organization, even after a 13 year absence. In our hopes of finding someone to replace the late, great Harry Kalas, Phillies fans will not have to watch their games on silent this season, however making sure the volume is loud enough on Sundays to hear what the greatest Phillies third baseman has to say.
After much tension and complaints of the color commentary this past season, Wheeler and Matthews were let go by a mutual decision from both the network and the team. As stated, there will be 13 "Sundays with Schmidt", as they call it. Moyer will account for 109 games, including Spring Training, and Stairs will account for 108, including 30 games they will be in the booth together.
X
---
Leave a comment
Comments will be approved before showing up.