Eagles Aim to Strengthen New 3-4 Defense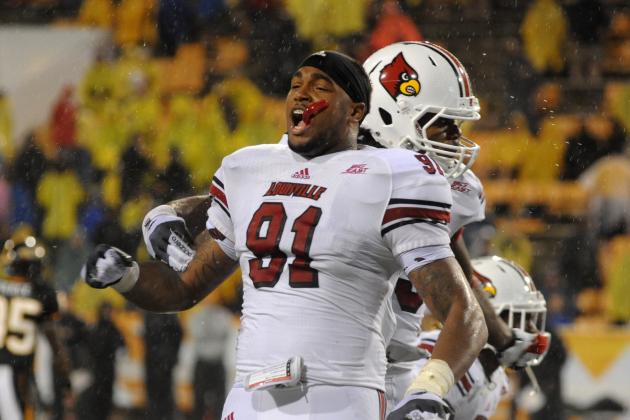 The Eagles first-round pick in the 2014 NFL Draft was met with boos and other signs of dissatisfaction. With the 26th overall pick, the Eagles took Louisville's Marcus Smith, an outside linebacker and defensive end. Despite the desperate need for defensive secondary players and wide receivers, coach Chip Kelly seemed excited with the Eagles pick, although almost all of the fans think otherwise. Kelly said that Marcus Smith was the 7th pick on the Eagles draft board. With the first 6 already picked, Kelly and the Eagles traded down 4 spots from the 22nd pick to the 26th pick, gaining another 3rd round draft pick and allowing the Cleveland Browns to select quarterback Johnny Manziel. Kelly justified this move by explaining that this is a "deep draft," with a lot of players with a lot of talent, and since the Eagles only started with 6 picks total, Kelly thought it would be better to trade down in order to secure another pick later in the draft.
Marcus Smith is a 6 foot 3, 250 pound Georgia native. Smith recently became a defensive end and outside linebacker after being a quarterback at his high school. In his senior season, just 3 years after changing positions, Smith recorder 14 and a half sacks, was named American Athletic Conference's Defensive Player of the Year, and was awarded second team All-American honors. Smith also performed very well at the NFL Combine, where he ran a 4.6 40-yard dash, had a 35 inch vertical and completed 23 bench press reps.
Although Smith was projected in most mock drafts to be anywhere from a second to fourth round pick, Kelly and the Eagles were confident in their choice in order to aid their transition to a 3-4 defense, similar to the defense that Smith was a part of his junior and senior years at Louisville. Smith will start out as a pass rusher who has the ability to drop back into coverage, assisting Trent Cole and Connor Barwin on the front line. Smith, who was very excited to be drafted in the first round by the Eagles, is still learning the tricks of the trade at his new position, which means there is only room for improvement on his techniques and gaining experience.
With six more picks on the second draft day, the Eagles still have significant progress to make in many different areas, including cornerback, wide receiver and growing the depth of their roster in order to efficiently run the new fast-paced style implemented by Chip Kelly.
---
Leave a comment
Comments will be approved before showing up.